Marisa DeFranco is recognized expert in immigration and national security. A National Award winning immigration attorney with 20 years of experience, DeFranco has received both national and state awards for her work. In October 2011, she was honored as a Top Woman of Law by Massachusetts Lawyers Weekly. In October 2010, the National Legal Aid & Defenders Association awarded her the Beacon of Justice Award for her Pro Bono Service. DeFranco was one of only 34 Award Winners Nationwide.
DeFranco Law is a highly specialized firm in complex areas of immigration and national security law, focusing exclusively on business immigration and investor visas. DeFranco Law represents a wide range of industries, from small businesses to Fortune 500, including healthcare, IT, biotechnology, construction, and entrepreneurs.
DeFranco was a candidate for U.S. Senate in 2012 and for U.S. Congress in 2014. In both elections, she was the only clean-money, grassroots candidate.
Attorney DeFranco frequently appears in the media including as a political analyst and immigration and security expert on CBS Nightside with Dan Rea, CBS TV with Jon Keller, and Boston Herald radio. DeFranco is a published opinion writer. She is currently a Guest Columnist for The Lowell Sun, and she has previously been published in other New England newspapers.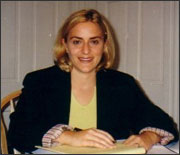 Marisa DeFranco, ESQ.

PO Box 103
Middleton, MA 01949
EDUCATION
Suffolk University Law School
Boston, MA., May 1996
Juris Doctor, cum laude,
Trinity College
Dublin, Ireland 1994
Institute on International, Comparative, and Environmental Law
University of Dayton
Dayton, OH., April 1992
B. A., magna cum laude
PRACTICE AREAS
Including: L-1, E-2, O-1, Employment-Based Permanent Resident petitions, National Interest Waivers, Entrepreneurs.